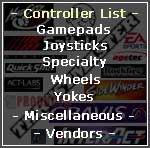 Joystick Reviews and Game Reviews... that's what we do's!? Ok, that was kind of corny - but we are running on a different rail than other review sites. We are just a bunch of gamers that are always talking about this stuff, so we might as well talk out loud and let others get an idea how we like various products in the industry.

We started in October of 2000 and are rollin' out controller and game reviews with a new twist; so please tell your friends, bookmark our site, and come back often. Our rating system is different than you are used to seeing, so check out our

Rating Method

page to find out how we grade on a variety of categories. Our web site enables you to view and compare games and controllers from one location. As you navigate the sight, use your mouse to hover the content - there are several links, so when in doubt... Click it!

SITE MAP!!!

In late May 2002 we launched our site map. It's there to give you an overview of our entire site, so new and regular visitors will find it handy to see what we have.
---

Race Sim Cockpit!
Microsim
sent us a couple of their simulation cockpits and these things are
cool
. Check out the Microsim section for pricing and links.
---
CHECK OUT OUR COMPARISON CHARTS!
Comparison charts
for each category make it easy for you to see how controllers or games did in a category-by-category comparison with their competition. The review's total score doesn't always tell the whole story, and the charts allow you to chop and slice the scores with a variety of sort options, to help you find the scores that are most important to you!
---
The bottom line is that the more traffic we get on our site, the more potential we have of eventually recouping our costs - directly allowing us to put more efforts into a great site for all to enjoy! You can help our growth efforts by telling your friends to check us out, bookmark the site, and come back often. We don't offer technical support, but if you have suggestions for our web site please send us an email (see
Contact Us
).