'41 WILLYS 2dr Coupe Streetrod
This is the final result of a 2 year build, all overseen and hands on by the owner personally as being built by "Vanderbeck Race Cars" of Salem Oregon. Retaining the basic body characteristics of a 71 year old classic, it features virtually all the options that you would find in a modern high performance car.
Owners: Don & Teresa Lulay of Salem Oregon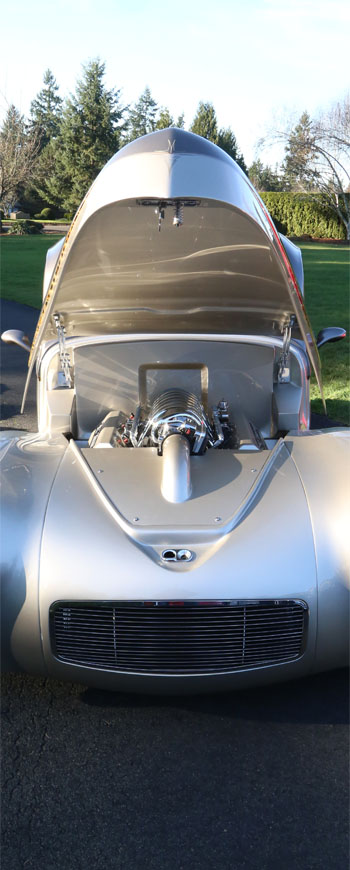 BODY / PAINT
Fully Customized Fiberglass Replica Body | Chopped 4" | Shaved handles, moldings, bumpers | Suicide Doors | Custom 1 piece Hood | Custom recessed taillights | Custom recessed grille | Custom Modified fenders for recessed "Mini Cooper" headlights | Painted tutone "Gold Mist body, upper 1/3rd painted Mocha" | Accented with airbrush graphics and hand painted pinstripes
UNDERCARRIAGE / CHASSIS
Fully Custom chassis | Custom Ford 9" Rearend w/3.92 Posi Traction, polished 3rd member | Rear Suspension a 4 link, w/coil over shocks, all chromed plated | Front suspension is a Hedits IFS, all chromed or polished aluminum | Wildwood 14" Drilled/Grooved 4 whl Disc brakes, chrome plated/polished | All fuel/brake lines, bolts, fasteners Polished Stainless | Custom Polished Stainless Fuel Tank w/braided fittings/lines | Custom fuel system for fuel injected engine
ENGINE / RUNNING GEAR
New Mopar Fuel Injected 6.1liter 392cu "Hemi" Engine | Engine modified and reprogrammed to produce over 550hp | Block and pieces body color "Gold Mist" | Every accessory replaced w/Custom Chrome or polished | Custom Vintage Air Conditioning and heat | New Mopar 5spd Automatic Transmission
WHEELS AND TIRES
Custom Billet Specialties "Cheyenne" Polished wheels, 22x10 rear, 18x8 front
INTERIOR/TRUNK AREA
Fully custom upholstery in multi colored leather with stainless accents | Custom dual power Bucket seats | Custom center console | Hidden Vintage Air/heat controls | Hidden Remote push button start, head light buttons | Full custom "white Faced Classic" gauges | Billet Air/heat vents | Custom "Real Flame" body matched graphics accenting dash! | Custom "Billet Specialty" steering wheel to match wheels | Hidden power trunk lid opener | Navigation and back up camera | 800 watt system - 6 Hidden speakers including 12" Base speaker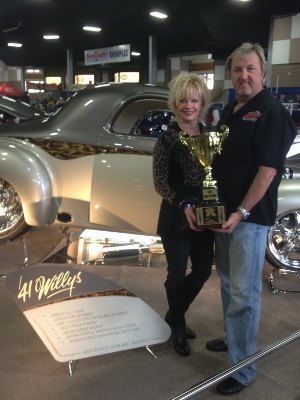 Shows and Awards
See show photos in the

Photo Album.

---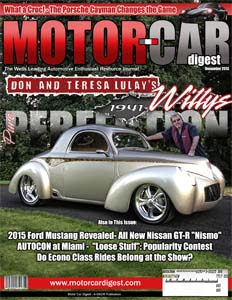 Motor-Car Digest : December, 2014

On 12/12/2014, Don and Teresa's Willys was offered the December cover of the Motor-Car Digest online magazine. Please see the PDF to read the feature article and read feedback. The PDF is a large file, but worth the wait to anyone wanting to read the full 22 page article which features lots of photos and the full build story.
---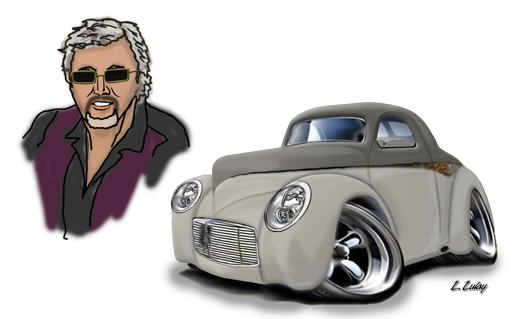 Custom Cartoon

Don's brother does some of his custom web work (including this web site). He decided to do a caricature of Don with the Willys. As with other images on this site, you can click the image to see the full size.
Associated Links
---
© Copyright Lulay's 2013 to present
Website designed by Larry Lulay



Incoming search: street rod salem oregon | hot rod salem oregon | don lulay show car | teresa lulay show car | don and teresa lulay's willys | 41 willys show car | salem oregon hotrod | salem oregon streetrod | custom airbrush flames | 2014 car shows | custom wheels and tires | chrysler Hemi engine