Welcome and thank you for visiting our web site. We intend to make regular updates, so please bookmark this site and view it regularly... and don't forget to tell your friends about us!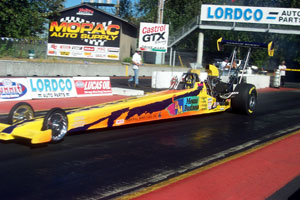 Looking to 2004
Hooked on nitro! After spending the last 2 seasons helping Gregg Lawrence with his awesome a/fuel dragster look for Russ to return to the driver's seat in 2004. Look for a new team with some familiar faces to emerge with a new a/fuel dragster with the intent of taking the western United States by storm. Details to follow...
Special Thanks
Special thanks to one of our partners,
joystickreview.com.
Before making any gift purchases, check out this site for expert game and controller analysis.
Did you know that our funny car travels 0 to 80 mph in less than a second? Check out our
Did You Know?
page for the answer to this question… and more!
Grab a tall, cool glass of milk and surf around our site. You'll find interesting history, fun
photos
, and a team devoted to quality.
Enjoy!
---
Site Technical Notes: If you attempt to come back to our site, and it is down - don't think we have gone away! We don't host our site on our own server and can't control server down times. So if you try us without luck, check back later. This site is targeted for use with Internet Explorer or Netscape. As you navigate the sight, use your mouse to hover the content - there are several links, so when in doubt... Click it!