2015 Show
6/26/2015 - 6/28/2015 - Oregon Motorcycle Expo
2014 Modifications
Larry Lulay is a graphic artist and web designer with a passion for motorcycles. This site provides details on modifications and accessories I've done to my bike. Watch close for links to great resources, and click photos for high resolution.
Lulay Bike Sites:
Rides Done Right Bikes
|
Harley Rocker
|
Custom Honda VTX
|
Project Diavel (Ducati)
This website is based on the extensive customizing I did to my 2008 Harley Davidson Rocker C. I did it in two phases, the first started in the winter of 2012 and the second started in the winter of 2013 and was completed mid summer of 2014.
In 2008, Harley came out with a unique bike (called the
Rocker
) that more closely resembled a custom chopper. The C model came with extensive factory chrome options. This web site contains details on the modifications I made to my Rocker.
Performance mods were done before the bike left the dealer (see specs on right). There were several things about the stock one that I knew I wanted to change, so I made my list and started prioritizing. Because I have an analytical background, I felt compelled to extensively research the options - and because of my graphics background I decided to create a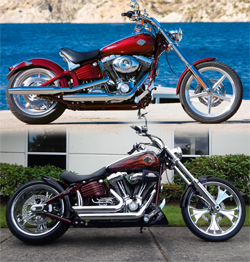 prototype in Photoshop to help me stay focused, plus give those that would be helping me a visual of what I wanted to do.
Wheels and tires are a major visual on any vehicle project and I searched all over the net looking at photos and brands trying to narrow down my options. Performance Machine has a good reputation and some of the best designs out there. Based on my bike's model having so much chrome, I stuck with the theme and ordered all chrome. The design was difficult because I couldn't find another Rocker that had the wheels I chose, but I just felt these had enough "mean" and enough "clean". I fell in love with the looks of the Avon tires, and it doesn't hurt that the performance marks are top of the chain. I knew I wanted to go as wide as possible on the back, so going with a 250 rear tire was a no brainer... but I really struggled with the width on the front tire. I knew I wanted a 21 inch (the stock 19 was too small, and I don't like the radical difference of 23 and larger). The width was tougher decision because I knew a 3 inch wide wheel would make it handle better, but I preferred the looks of the narrower tire. In the end I simply based my decision knowing that I wasn't going to be taking long rides (touring) with this bike, so form won out over function and I went with the narrow wheel/tire combo on the front.

Some of the mods that I couldn't buy off the shelf were the fenders and the paint. I couldn't stand the looks of the stock fenders (particularly the front one), and I wanted to incorporate more black and custom art in the paint.
I worked with Carey Vanderbeck (of
VRC Choppers
) on my
VTX
build and he is an awesome fabricator, so I got a hold of him to do my mods. The front and rear fenders are all metal. I ordered a blank half round fender for the front, and we cut the pieces to get the affect I was going for (a chopped front fender with a scoop).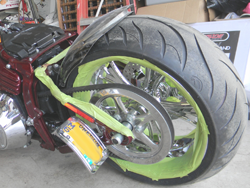 I bought a stock Rocker rear fender and we pretty much cut it in half, and used the second half to get the effect I wanted for the back fender's built in light bar. We also modified the mount points of the rear fender to get it closer to the rear tire. I am condensing a whole bunch here, because the details would bore most folks... but there was WAY more to these fenders than "just" what I am listing. I had a jillion hours of just messing with the Photoshop mockups (see some of the animations
First
,
Second
,
Third
) to get the basic dimensions and compare paint scheme ideas.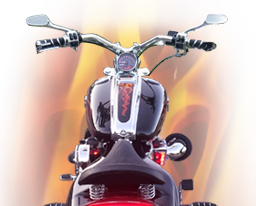 My brother Don helped with the layout on the back fender, which got it to a much cleaner look than I originally designed.
When the fenders were done, I took them to
Todd Hollis Automotive
and he did his body magic to them. The goal here was to make the fenders look like they could have come that way from the factory, and Todd did a great job finishing them, then painting the base black.
While Don was building his
custom Willy's
, I went over and watched a local artist (
Kerry Elwood
) do his flames... and I was hooked and decided I wanted Kerry to do some flames for my bike project. I'm going with a pretty aggressive design that combines true flames, standard paint flame design, and ghosting with bevels and drop shadows.